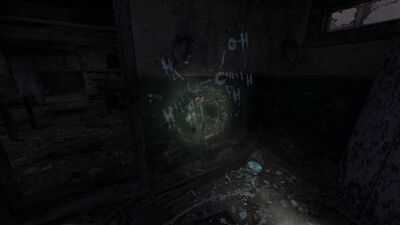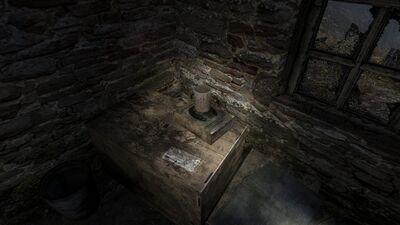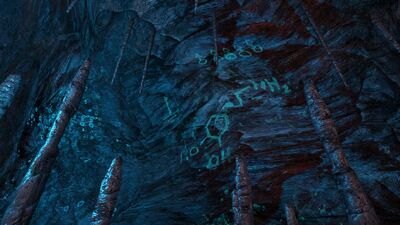 Chemistry is a frequent theme in the game Dear Esther. The very name of Esther is pronounced identically to the chemical group "Ester " which is found throughout biology and organic chemistry.
The character Paul works at a pharmaceutical company and has a mug with a chemical symbol on it. This chemical shows an organic molecule (known as Perylene-3,4,9,10-tetracarboxylic Acid Diimide) that has variable "R" groups that can be altered to change the fluorescent properties of the dye . This molecular set up is known as a molecular bridge as the set up of the carbon rings allow charges to transfer across the molecule. By varying the subsituents "R", different fluorescent properties emerge owing to the charge transfer across this bridge.
Additionally, the chemical diagram of "Ranitidine" appears in several places throughout the game with atom symbols replaced with hebrew letters.  The complete diagram with the actual atom symbols appears near the end of the game when the player ascends the final mountain with the aerial, in the small building in the room overlooking the cliff.  Ranitidine is an anti-acid medication used to treat peptic ulcers and acid reflux, possibly a reference to the ant-acid yogurt sold by Paul.
This bridge is similar to the game of Dear Esther as different realizations can occur on the island. The island itself is a bridge of The Narrator's transition from one point of their life into another.
There are chemical compounds throughout the game. Some are interwoven with neuron-type images written in fluorescent paint. The first instance exists in the light house (shown at left). The presence of alcohol symbols - particularly juxtaposed with neuron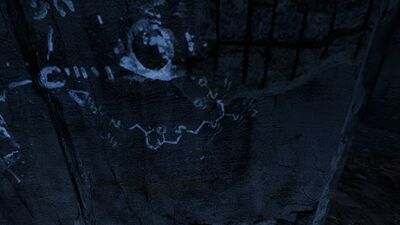 images - aludes to the drunk driving that may have led to the death of
Esther
. Throughout the game, lewis diagrams of alcohol (ethanol) and dopamine are seen - both of these chemicals affect the brain.
Another possibility is that the carvings of neurons are relating to the syphilis infection of Donnelly, the cartographer of the island, mentioned by the narrator.
Later in the game, the increasingly delirious Narrator mentions mixing phosphorescent paint and ashes and painting symbols on the rocks. It has been suggested that it was Esther's ashes that were mixed into the paint, as it was previously implied that she had been cremated.