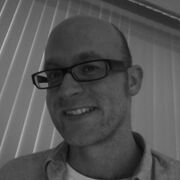 Dan Pinchbeck is the creative designer for thechineseroom game studios.
Dan Pinchbeck joined Portsmouth University in 2003. He has a background in Drama, but he has worked in media, digital and technological arts practice using emergent technologies. His research is the significance of narrative within Computer Games, and on the effective archiving of computer games. He is also the Creative Director within thechineseroom independent development team.
Biography
Edit
"Dan designs, writes and produces our games. He originally came from a professional background in digital art, before returning to his lifelong obsession with games as he realised they are far more exciting and creative and interesting than anything going on in the contemporary art scene. Plus you get crowbars, shotguns, zombies and spacecraft. In his other life, he's a Reader in Computer Games at the University of Portsmouth, where he teaches game design and supervises doctoral students studying all kinds of stuff about games. His love of S.T.A.L.K.E.R, Metro2033 and other East European FPS games is legendary. " - thechineseroom about Dan
Dan Pinchbeck has worked on Dear Esther as well as Korsakovia, he will presumably be involved in future projects such as Amnesia: A machine for pigs and Everybody's gone to the rapture.
References
Edit
http://www.thechineseroom.co.uk/team.html
http://www.port.ac.uk/departments/academic/ct/staff/title,12639,en.html